All 17 of TEPCO's units shut down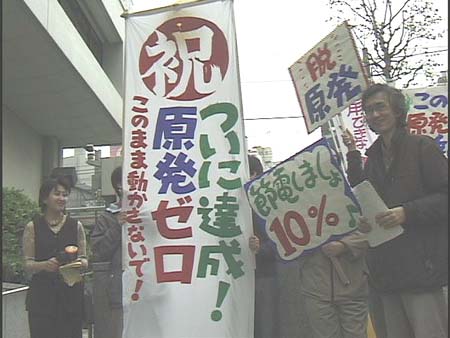 Anti-nukes celebrate the shutdown of 17 nuclear plants in front of the TEPCO building on April 15
Tokyo Electric Power Company Inc. (TEPCO) shut down all of its nuclear power plants (NPPs) for inspection and maintenance purposes on April 15. TEPCO operates 17 units with a total output capacity of 17,308MW, including Fukushima No. 1 (6 BWRs, 4,698MW), Fukushima No. 2 (4 BWRs, 4,400MW), and Kashiwazaki-Kariwa (5 BWRs, 5,500MW + 2 ABWR, 2,712MW). The former two NPPs are in Fukushima Prefecture and the latter in Niigata Prefecture.
On April 15, there emerged a situation where virtually every TEPCO-owned NPP ceased generating electricity.
Dr. Shunsuke Kondo, a professor of Tokyo University called this situation a "simultaneous breakdown" (showing the danger of several NPPs failing at one time). In a recently published article, he asserts that, "it is true that the managers of electric power companies started to suspect nuclear energy, which have the "simultaneous breakdown" risk, as a pillar of electric supply in the age of electricity restructuring." (Energy Review 2003.1, in Japanese).
The "simultaneous breakdown" has been regarded as a risk posed in the event of an accident. The risk comes about when an accident in one NPP necessitates a comprehensive investigation of the other NPPs, leading to the failure of all suspected NPPs. The whole situation proved that the revelation of malpractice in NPPs created the "fall down risk." Thus, we know that relying too much on nuclear power as a basis for a steady electric supply and as a preventive measure for global climate change is a risky course. It also threatens the management of electric companies, as Prof. Kondo pointed out.
Speaking of ensuring a stabilized electric supply system, the current nuclear suspension has not caused an electric supply crisis. There have not been any blackouts anywhere in TEPCO's 40,000 square-km electricity supply area, despite the fact that all of TEPCO's NPPs were shut down. Indeed, many buildings and streets were lit up more than necessary. Since electric companies have excessive power generating capacity, it is apparent that the electricity supply can be secured while all NPPs are shut down.
Even in the peak load during summer time, it would be possible to shut down all the NPPs if more efforts were put into the reduction of electricity demand. The business risk of electricity companies can be reduced if we stop NPPs and minimize electricity consumption. This would also help stabilize energy supply and combat global warming.
The situation of all 17 TEPCO units suspension has ended on May 7 -- a total of three weeks. On this day, TEPCO was forced to restart the No. 6 of Kashiwazaki-kariwa (ABWR 1356MW). The TEPCO repeatedly emphasized the difference between the ABWR and BWR. However, it also makes it difficult for the TEPCO to resume the operation of BWR. Now that 16 units are still off the line, resuming one unit does not change the whole situation.
Return to NIT 94 Contents

CNIC
Citizens' Nuclear Information Center
Akebonobashi Co-op 2F-B, 8-5 Sumiyoshi-cho,
Shinjuku-ku, Tokyo, 162-0065, Japan
TEL.03-3357-3800
FAX.03-3357-3801
Map
http://cnic.jp/english/
Email